Provision crane


Manual, electric or hydraulic provision crane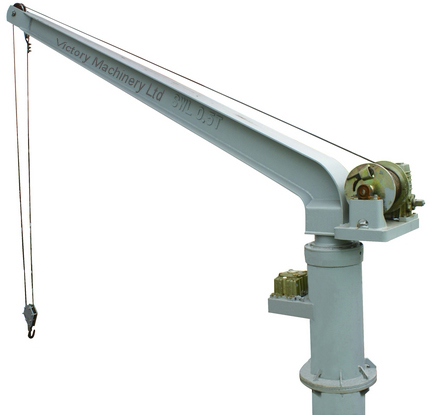 Victory Machinery produce a simple and time efficient monorail provision crane that provides fast and reliable handling of spares and provision. And ensure a safe and steady operation of the crane and allow it to travel outside the fixed beam on both sides of the vessel. Standard capacity for these cranes is up to 12 tons.
Typical Victory Machinery Provision Crane
Electrical and hydraulic operated Provision crane.
General description
The support structure for the monorail provision crane an either be welded to the deckhouse or A-frames from deck.
Steel Structure
The steel structure is manufactured from sand blasted and primed material. The main structure is made either from heavy square tubs section or welded from plates. Support structure for machinery, side plates etc. are made from heavy plates, all to give a rigid structure to carry the load.
Surface protection
After welding etc. the steel is cleaned by steel brushing and following painting:
High built chlorinated rubber 1 coat
Chlorinated rubber finish paint 2 coats
Colour: Grey or to client's requirement.
Hoisting machinery
The provision crane can be equipped with two separate hoisting machineries, one for each shipside.
The machineries are of the open drum type, each consisting of following main components: Multilayer rope, drum, ungrooved, Oil filled planetary gearbox,
Electrical motor, squirrel cage type, with electromagnetic fail-safe brake,
Upper pulley block with built in overload switch,
Hook block,
Galvanized wire rope,
Limit switch for top position of hook,
Slack rope switch,
Travel machinery,
The single flanged travelling wheels are running on the lower flange of the monorail beam.
To secure safe operation against degr. heel, rack and pinion drive is incorporated. The gear rack is welded to the underside of the runway beam. Drive by an electrical motor located on the centre boggie through an oil filled gear reducer and pinion engaging the gear rack.
Limit switches are installed to stop the crane at each end of monorail in addition to heavy-duty bumpers.
Motors
All motors can be designed for crane duty 40% ED, IP56, insulation class F and equipped with electromagnetic fail-safe brakes.
Electrical equipment
All electrical equipment like starters, transformers, fuses, etc. are supplied by recognized European suppliers and assembled in a separate panel located on the crane. The panel is made in steel with IP 65 protection. Cargo lights can be supplied as option.
Electrical power supply
The supply along the monorail to the crane by flexible cable from cable reel located on the crane. The cable is fed from midship and resting on supports when extended. The cable reel is made in galvanized steel.
Operation of crane
All motions (hoisting and travelling) are operated from a push button controller suspended from centre of crane to deck level. Start/emergency stop button is included.
If the crane is equipped with cargo light, the start/stop button will operate this.
Safety features
Following safety features are included:
Start/emergency stop button
Overload protection
Limit switches for travelling
Limit switch for top position of hook
Slack rope switch
Access/service platform
An access/service platform to the machinery, electrical cabinet and parking arrangement is included on the crane. Access to the platform is to be provided on the ship.
Parking arrangement
A manually operated parking bolt locking the crane to the structure is included. Access to the bolt is from the service platform.
Design standard
The provision crane is designed according to the Norwegian Marine Directorate and Class rules.
Note: above mentioned according to use requirements, different model and different configuration cost different price.
Classification certificate:
Available for the ABS, BV, LR, GL, DNV, RINA, NK, CCS, KR, etc,

To obtain details of this product range please contact us.