| | |
| --- | --- |
| | EDQ series Electric Slewing Crane |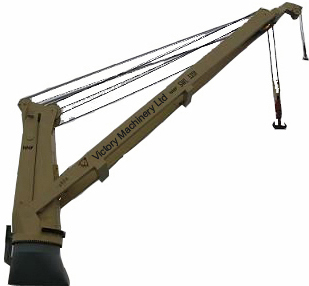 The EDQ crane is an economic alternative for use on board vessels or on shore for the loading and unloading of vessels. The design of these cranes has the following advantages.
Lifting capacity : 10 ton
Working Radius: up to 30 M,
Hoisting Height: up to 30 M,
Slewing speed: 0.4-0.8 r/min.
-Wide rope field at the hook allowing for safe and stable cargo handling (anti-swing device).
-Maintenance free hydraulic luffing rams, chrome-nickel plated, which reduce the operation and maintenance costs.
-Boom is firmly suppoerted at all boom angles due to the double acting hydraulic rams.
-Low weight and centre of gravity for improved ship stability and increased cargo capacity.
-Despite relatively high turnover, low costs (e.g. electricity consumption, maintenance costs).
We design special purpose A-frames for offshore construction vessels, research vessels and naval vessels.
International class available for the ABS, BV, LR, GL, DNV, RINA, NK, CCS, KR, etc.

To obtain details of this product range please contact us.