| | |
| --- | --- |
| | Kayaba (KYB) MAG Travel Drive Hydraulic Motor / Traveling Drive Motor |
Application:
KYB MAG travel drive hydraulic motor are a high torque and high efficiency, MAG travel motor specifically designed for crawler machines. The drive motor can be customized to fit the customer's requirements with many different ratios and displacements available.

Features
The piston motor has a variable displacement (2-speed) swash plate and incorporates a brake valve and mechanical brake. Combined with a case-rotation type planetary gear reducer, the KYB drive motor offers the following outstanding features:
— Hydraulically balanced piston motor ensures high-pressure high-performance operation.
— An offset-type 2-speed design ensures reliable changeover of the displacement by an external pilot control (speed ratios of between 1.5:1 and 2:1)
— The motor offers a built-in double counterbalance valve and shockless crossover relief valve, providing speed control and braking with minimum shock.
— The mechanical brake is a negative brake linked with the counterbalance valve. The brake is automatically activated or released when the vehicle stops or starts.
— The case-rotation type gear reducer has improved durability and reliability due to high precision parts and an equally-loaded design.
— The hydraulic motor uses heavy duty bearings to ensure long life. Floating seals also prevent dust or water from entering into the motor.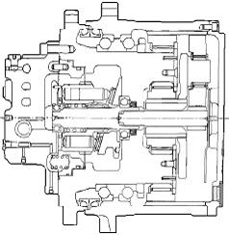 Technical performance data

Model
Max. output
Motor displacement
Gear ratio
Max speed
Max pressure
Applicable Vehicle weight
Weight
N.m
cc/rev
rpm
MPa
Ton
KG
MAG-26V
4802
27.6
53.7
60
24.5
3.5-5
42
MAG-33V
5880
33.8
47.41
60
27.5
5-6
60
MAG-50V
8918
53.2
45.57
60
29.4
6-8
95
To obtain details of this product range please contact us.